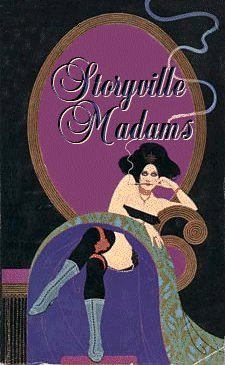 Storyville's gateway, Basin Street, made legendary through song, was lined with extravagant bordellos -- from the infamous octoroon madam Lulu White's Mahogany Hall to Emma Johnson's mansion, where sex circuses were regularly staged.




---
| | |
| --- | --- |
| The parlor of Lulu White's Mahogany Hall, One of the posh bordellos of Storyville. | Lulu White |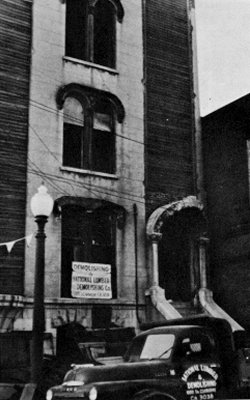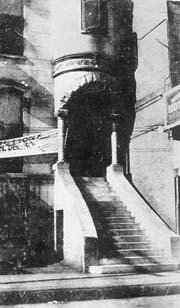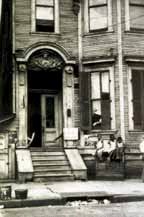 ---

In Storyville, women such as "Countess" Willie Piazza and Josie Arlington ran posh and luxurious houses with oil paintings, fine wines and potted palms. Many of the houses were staffed by the madame's stunning octoroon and quadroon "nieces", who were usually girls whose families had fallen on hard times. The popularity of female Creoles of color in the bordellos caused many old-line Creole families to send their strictly raised daughters to convents until they were old enough to marry.

---


RENOWNED CALL HOUSE MADAMS

Josie Arlington

Proprietor of the most elaborate bordello in the famous Storyville red-light district of New Orleans, Josie was born Mary Deubler of German parents in New Orleans in 1864. She first went into the business in 1881 and was noted for an extremely irascible disposition, which drew her into incredibly bloody brawls. Known at various times as Josie Alton, Josie Lobrano, and Lobrano d'Arlington, this short, hot-tempered little brunet decided to cool things down and improve her manners in 1895, when she opened an establishment on Customhouse Street filled with "gracious, amiable foreign girls who would beat home only to gentlemen of taste and refinement." When Storyville opened as a segregated district of legal prostitution in 1898, Josie moved right on over. Her House: The Arlington, at 225 North Basin Street, was a four-story frame mansion boasting numerous bay windows, a tulip-domed cupola, fireplaces in most rooms, and, according to Josie's extensive advertising, "the work of great artists from Europe and America and many articles from various expositions and curios galore." All of this--plus 10 to 20 courtesans--made the Arlington "the most decorative and costly fitted-out sporting palace ever placed before the American public."

It was a "$5 house" (a good price in a town where traveling prostitutes, who carried mattresses on their backs and worked in any dark alleyway, turned tricks for a quarter). A fire in 1905 did extensive damage, and Josie and her "nieces" moved temporarily down Basin Street to rooms above Tom Anderson's saloon (ever after known as "the Arlington Annex").

Anderson, political boss of Storyville and a two-term member of the state legislature, became one of Josie's closest friends and, upon her retirement in 1909, bought a large portion of her business. No tour of New Orleans at the turn of the century was complete without a visit to Storyville, which always began at Anderson's saloon, moved on to the plush and velvet parlors of the Arlington, and ended up in the seamier districts.

Specialties and Eccentricities: Like most high-class houses in Storyville, the Arlington catered to the kinkiest tastes, featuring "circuses" in which sex acts were publicly performed and providing "specialists" for fetishists and sadomasochists. For a price, of course. Once the polite nonsense in the parlor was over (it raised the fee), you could do what you wanted.

After the 1905 fire, Josie became very moody and introspective. She retired four years later and lived a private (if occasionally violent) life in her mansion over on Esplanada Street. She died there on Feb. 14, 1914, just three years before Storyville was closed down by W.W.I antiprostitution regulations and the Arlington sealed its door forever.

© 1975 - 1981 by David Wallechinsky & Irving Wallace Reproduced with permission from "The People's Almanac" series of books. http://www.trivia-library.com/b/prostitution-biography-of-madam-josie-arlington.htm

Metairie Cemetery
5100 Pontchartrain Blvd.
Morales-Arlington Tomb One of the most "controversial" tombs in New Orleans, the Morales tomb was originally built for Josie Arlington, the most famous of the Storyville madames. It attracted attention later when a red light was installed on a road behind it. Josie's remains were moved later after her estate was liquidated.

The former resting place of Storyville madam Josie Arlington. (Her mortified family had her body moved when her crypt became a tourist attraction, but the tomb remains exactly the same, including the statue of a young woman knocking on the door. Legend had it that it was Josie herself, being turned away from her father's house, or a virgin being denied entrance to Josie's brothel -- she claimed never to despoil anyone. The reality is that it's just a copy of a statute Josie liked.)





It was here where Josie Arlington operated her house of ill repute and became very rich. The house was known as the finest bordello in the district, stocked with beautiful women; fine liquor; wonderful food; and exotic drugs. The women were all dressed in expensive French lingerie and entertained the cream of New Orleans society. Many of the men who came to Josie's were politicians, judges, lawyers, bankers, doctors and even city officials. She had the friendship of some of the most influential men in the city, but was denied the one thing she really wanted... social acceptance.

She was shunned by the families of the city and even publicly ignored by the men she knew so well. Her money and charm meant nothing to the society circles of the city. But what Josie could not have in life, she would have in death. She got her revenge on the society snobs by electing to be buried in the most fashionable cemetery in New Orleans... Metairie Cemetery.

She purchased a plot on a small hill and had erected a red marble tomb, topped by two blazing pillars. On the steps of the tomb was placed a bronze statue which ascended the staircase with a bouquet of roses in the crook of her arm. The tomb was an amazing piece of funerary art, designed by an eminent architect named Albert Weiblen, and cost Josie a small fortune. Although from the scandal it created, it was well worth it in her eyes. Tongues wagged all over the city and people, mostly women, complained that Josie should not be allowed to be buried in Metairie. But New Orleans is a city normally lacking of discrimination and nothing was ever said to her about it.

No sooner had the tomb been finished in 1911, than a strange story began making the rounds. Some curiosity-seekers had gone out to see the tomb and upon their arrival one evening, were greeted with a sight that sent them running. The tomb seemed to burst into flames before their very eyes! The smooth red marble shimmered with fire, and the tendrils of flame appeared to snake over the surface like shiny phantoms. The word quickly spread and people came in droves to witness the bizarre sight. The cemetery was overrun with people every evening which shocked the cemetery caretakers and the families of those buried on the grounds. Scandal followed Josie even to her death. Josie passed away in 1914 and was interred in the "flaming tomb", as it was often referred to. Soon, an alarming number of sightseers began to report another weird event, in addition to the glowing tomb. Many swore they had actually seen the statue on the front steps move. Even two of the cemetery gravediggers, a Mr. Todkins and a Mr. Anthony, swore they had witnessed the statue leaving her post and moving around the tombs. They claimed to follow her one night, only to see her suddenly disappear. The tradition of the flaming tomb has been kept alive for many years, although most claim the phenomena was created by a nearby streetlight which would sway in the wind. Regardless, no one has ever been able to provide an explanation for the eyewitness accounts of the "living" statue.

Perhaps Josie was never accepted in life... but she is certainly still on the minds of many in New Orleans long after her death!
---
| | |
| --- | --- |
| Tom Anderson | Anderson's at night |

Tom Anderson's Cafe was a major musical center of Storyville at Basin and Iberville Streets. Just a few doors up was the Mahogany Hall, now best remembered for the jazz tune "Mahogany Hall Stomp".

In 1892, Tom Anderson, later often called the unofficial "mayor" of Storyville, opened his first restaurant at No. 12 N. Rampart St. By 1900, this restaurant, advertised here in the November, 1900 issue of The Southern Buck, was only one of a number saloons and restaurants owned or partially owned by Anderson in the infamous red light district. The Arlington Cafe (not to be confused with Anderson's Arlington Annex or with the brothel operated by madam Josie Arlington) was not a "house of ill repute," despite the suggestive images and language of the ad, but it was surely patronized by those who visited Storyville for something more than a good meal.

---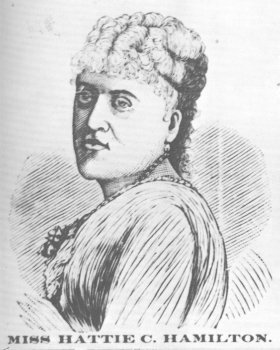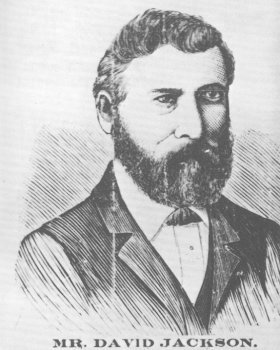 Hattie Hamilton was the first of the big-time Basin Street madams. Her enterprising paramour David Jackson guided her from bankruptcy to a fortune, but the state concubinage laws kept him from sharing in her estate.

---

Tom Anderson, the "Mayor of Storyville," ran most of its dealings through his brothel, called Anderson Annex. In 1905, he renamed the brothel, Arlington Annex, after his lover Josie Arlington. Eventually Storyville district was closed in 1917, but the military soon established a new brothel just outside of the city, on the Gulf. Like other cities many of the Madams of Storyville become famous figures in the history of New Orleans. In 1870, Hattie Hamilton was a famous Madam who shot one of her clients. He was Mr. David Jackson, a Louisiana senator but she was released, by the police, without being questioned or charged. In 1880, Lulu White was well known to the police force for numerous offences. Although she had a client list made up of some of the most prominent and wealthiest men in Louisiana she gave up her business in 1906, and moved to California. In 1883, Kate Townsend was another famous madam who met an untimely death at the hands of her lover, Troisville Sykes. After a plea of self-defense he was released and went on to inherit her ninety thousand dollar fortune. Like Paris and London, Storyville district had its own unique Blue Book, a forty page publication of personal promotional pages from each of the madams. The annual was underwritten and published by Tom Anderson. Young American men were especially attracted to the French girls because they wore high heeled boots. Some of the madams realised the allure of the special footwear and imported them to an eager custom from young American women. The heel caught on as a fashion icon amongst respectable women and soon the first heel factory was established. Many historians believe this was the beginning of the fashion shoe industry in North America.

---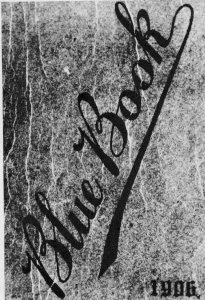 A New Orleans Blue Book



Notorious guide to Storyville, New Orleans' red-light district. The earliest such guide appeared about 1896, though they were produced in their present format from 1909 to 1915 by Billy Struve on the second floor of Lulu White's saloon at the corner of Basin Street and Bienville. Struve was knee deep in the business; in addition to composing the Blue Book, he also managed a saloon owned by Tom Anderson, known about town as the "Mayor of Storyville." The guides were sold throughout the district, but primarily at the corner of Basin and Canal. They include lists of burlesque houses, names of landladies, and names of prominent women in the trade. The prostitutes are often identified by race, most commonly white, black, and octoroon.

Regarding the present edition, C.F. Heartman, in his Blue Book bibliography, writes: "There were twenty-two establishments, twenty-two landladies, three hundred and eight white girls, two hundred and thirty-one coloured girls and seven octoroons. Also there were nine cabarets; seven of them white with seventy-one girls, and two coloured with sixteen girls...the Cairo is thus described: 'Floro Randella, who is better known as Snooks, the Italian beauty, is one woman among the fair sex who is regarded as an all-around jolly good fellow. Nothing is too good for Snooks, and she regards the word Fun as it should be, and not as a money-making word. She is a good fellow to all who come in contact with her...A visit will teach more than the pen can describe....'" The two photographs include a facade of Emma Johnson's famous "Studio" and a portrait of the Oriental Danseuse, Rita Walker. Owing to their content and heavy use, all Blue Book guides are extremely rare. HEARTMAN, THE BLUE BOOK XII. $2000.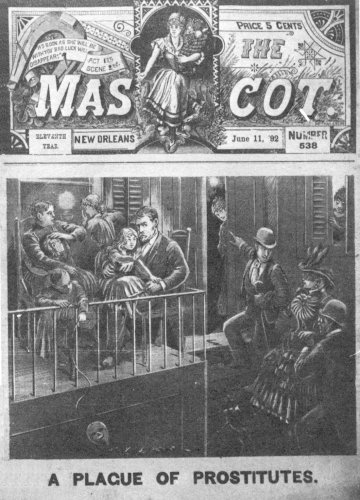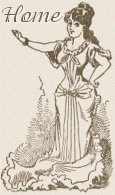 Hosted by
Tripod